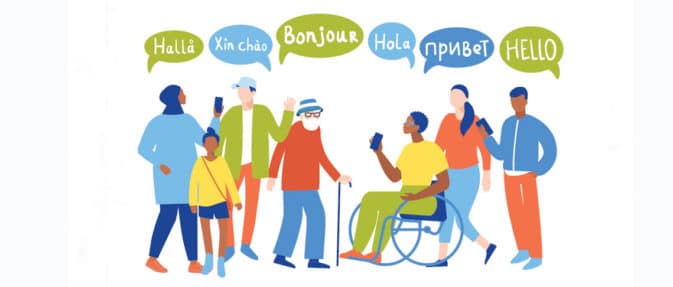 NCPRD Translation Services
Español/Spanish
Русский/Russian
Tiếng Việt/Vietnamese 
North Clackamas Parks & Recreation District is now offering translation services in 82 different languages. Using real-time language translation technology, in partnership with Pocketalk, our staff is able to bridge the language divide with non-English speaking residents to remove barriers to programs and services.
The community within the District is very rich and diverse, and there is a multitude of different languages spoken. Our goal is improve communications to make it possible for all residents to fully participate in NCPRD's programs and services – whether it is a parent registering their child for a sports league, an adult looking to take a fitness or enrichment program, or a senior needing support from the Meals on Wheels program. NCPRD partnered with Pocketalk to better serve residents who speak a language other than English, and to better understand their wants and needs.
What is Pocketalk?
Pocketalk is a multi-sensory, two-way translation device. With a large touchscreen, noise-cancelling microphones and a text-to-translate camera, Pocketalk is able to create connections across 82 different languages. The sleek design is equipped with high-quality, noise-cancelling microphones and two powerful speakers so it's easy to have full conversations, even in noisy environments. The camera instantly recognizes and translates text, the written word, and signs. A large touch screen provides a text translation for additional clarity.
How does it work?
1. Visit the front desk at an NCPRD facility:
Milwaukie Community Center, 5440 S.E. Kellogg Creek Dr., Milwaukie
North Clackamas Aquatic Park, 7300 S.E. Harmony Rd., Clackamas
Concord School Property, 3811 S.E. Concord Rd., Oak Grove
2. Choose your language from a list
3. Take turns with staff speaking into the device for real real-time conversations or use the camera to instantly translate text, the written word, and signs
5. Ask questions, sign up for programs or share feedback with staff
Questions?
Contact us at info@ncprd.com.